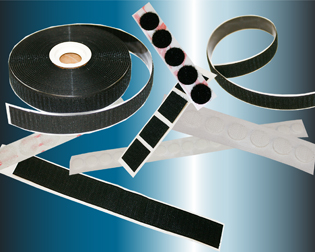 Click here to request a free sample.
Hook & Loop Tape, Circles & Kiss Cut Pieces
VELCRO® and other brands of Hook & Loop Tape

VELCRO® and other brands of hook and loop tape are ideal solutions for a wide range of applications where a temporary or easily movable adhesion is needed without the use of adhesives. Flexible VELCRO® strips are popular closure options and a convenient feature we often add to our vinyl products. Available with standard rubber, acrylic, or high bond adhesive, there is a Velcro® brand or other brand of hook & loop accessory to attach or close your product. They serve as great envelope closures and pouch hangers.
The VELCRO® tape adheres to the item semi-permanently and to its mounting area, yet can be easily removed and replace at ease. Hook & loop fasterners are versatile, durable, and easy-to-use. They can be cut into any length are available in a variety of die cut shapes.
Contact us for more information about application ideas, and fast, accurate estimating.
VELCRO® is a registered trademark of Velcro Industries B.V.